Yesterday's findings from two scientific teams that a large section of the West Antarctic Ice Sheet has now started to collapse (almost certainly unstoppably, implying 10 feet or more of long term sea level rise), is relevant to pretty much everyone around the world. But for us Brits in particular, the prospect of the disappearance of so much of Antarctica has a particular resonance, coming as it does just a couple of years after the centenary of the deaths of Robert Falcon Scott and his companions in the race to the South Pole.
Scott's last expedition didn't cross the West Antarctic Ice Sheet on their way to the Pole; instead, they landed just to the east of the WAIS, at the edge of the Ross Sea, and made their way to the Pole over the Ross Ice Shelf.
They built their HQ, seen above, on Ross Island, at a place called Cape Evans – named, as it happens, for my great granddad, Teddy Evans, who was second in command of the expedition. (He was also one of the few who survived; he caught scurvy on the way to the Pole, and was hauled back by his companions William Lashley and Tom Crean – thanks to whom I'm here to write this blog post.) He's just to Scott's right in the photo above, taken at Cape Evans on Scott's birthday in 1911.
But now the Ross Ice Shelf is melting too – not as fast as the WAIS, admittedly, but melting from underneath all the same, rather than just calving icebergs the way it always used to. Same story with Antarctica's other giant cold-cavity ice shelves, Filchner and Ronne.
There's a certain sad irony here in that the UK Antarctic Heritage Trust recently completed a successful appeal to preserve Scott's hut at Cape Evans – a place that, as David Attenborough noted when he went there, is
"a time warp without parallel – you walk into Scott's hut and you are transported to the year 1912 in a way that is quite impossible anywhere else in the world. Everything is there."
But while the hut will stay the same, the continent that my great granddad and his fellow expeditioners would have looked out at whenever they stepped outside is disappearing. Not too many generations from now, only the bedrock will be left – and even that, rapidly disappearing under the waves.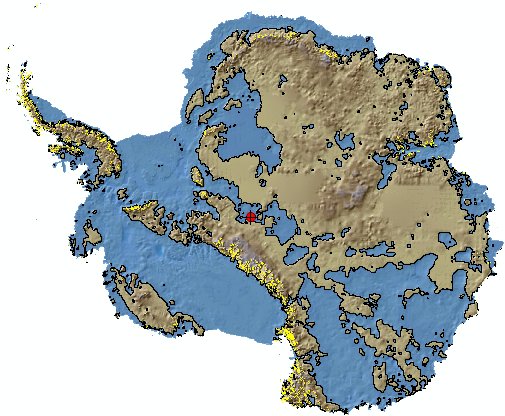 See this companion post, also published today, for a short guide to other climate 'tipping points' – and a few links to what you can do to help prevent us from sleepwalking over any more of them.