Tullett Prebon, if you haven't heard of them, describe themselves as:
…an intermediary in wholesale financial markets facilitating the trading activities of its clients, in particular commercial and investment banks [in] seven major product groups: Volatility, Rates, Non Banking, Treasury, Energy and Commodities, Credit and Equities.
They are, in other words, not all that hard to tell apart from Friends of the Earth. So you might be forgiven a small double take when you read the contents of their latest report to clients:
The global economy is in the grip of a forest of dangerous financial and non-financial exponentials. A series of key indicators – including population growth, energy consumption, cumulative inflation and the money supply – all appear to have turned into exponential 'hockey-stick' curves.

Amongst the non-financial indicators, there are reasons to fear that exponential trends in population growth and energy consumption may not be sustainable, because both may be heading for practicality constraints. Meanwhile, the intrinsic values of the principal currencies (including the dollar, the euro and sterling) may be threatened by escalating debt, by dangerously rapid expansion in the money supply, and by continuing deteriorations in purchasing power.

We conclude that the 'forest of exponentials' is indeed highly dangerous, particularly because it is neither properly understood, effectively calibrated or coherently managed. In particular, we identify an urgent need to foster an understanding of energy returns on energy invested (EROEI), and to develop a universal system of measurement and calibration.
November 16, 2010 at 3:34 pm | More on Climate and resource scarcity |

Comments closed
…you may be wondering just how bad it's going to be on climate change. Here's a clue:
Last year, when John Boehner, of Ohio, the incoming House Speaker, was asked by ABC's George Stephanopoulos about his party's plans to address climate change, he had this to say: "The idea that carbon dioxide is a carcinogen … is almost comical."
Indeed it is, John. All this and more over at the New Yorker.
November 16, 2010 at 3:17 pm | More on Climate and resource scarcity, North America |

Comments closed
The International Energy Agency published this year's magnum opus a week or so ago – here's the Executive Summary (pdf). Key points:
- The Outlook sets out three scenarios that look ahead to 2035: a Current Policies Scenario, which assumes no change on policies as at mid-2010; a New Policies Scenario, which takes account of recently announced pledges to reduce greenhouse gas emissions and eliminate fossil fuel subsidies (which are "assumed to be implemented in a relatively cautious manner, reflecting their non-binding character"); and a 450 Scenario, which sets out an energy pathway consistent with 2 degrees.
- In the New Policies Scenario, energy demand rises 36% from 2008 to 2035 – that's 1.2% a year on average, compared to 2% a year over the previous 27 years and 1.4% in the Current Policies Scenario. In the 450 scenario, by contrast, demand rises by only 0.7% a year.
- For the first time, the WEO has a whole section on peak oil, which notes that in the New Policies Scenario, "crude oil reaches an undulating plateau of 68-69 mb/d by 2020, but never regains its all-time high of 70 mb/d reached in 2006″. But they also note that "production of natural gas liquids and unconventional oil grows strongly". Their conclusion: "clearly, global oil production will peak one day, but that peak will be determined by factors affecting both demand and supply". See here for what the peak oilers have to say about all this. Remember that the greenhouse gas emissions associated with unconventional oil are far higher than for conventional.
- Lots of discussion about natural gas, with the phrase "golden age" getting a look-in. Key take-away: "the glut of global gas-supply capacity that has emerged as a result of the economic crisis (which depressed has demand), the boom in US unconventional gas production and a surge in liquefied natural gas (LNG) capacity, could persist for longer than many expect". The glut was 130bcm in 2009 – next year, it will rise to 200bcm before starting to decline again.
- Biofuels are expected to expand rapidly – from 1 mb/d today to 4.4 mb/d in 2035 under the New Policies Scenario. Advanced biofuels aren't expected to enter the market until around 2020. Total government support for biofuels came to $20 billion in 2009, mostly in the US and EU; between 2010 and 2020, that's expected to rise to about $45 billion a year. Hard to find much to cheer about on the food security front here.
- Copenhagen was a "step forward" [like every other weak climate summit ever] but still "fell a very long way short of what is required to set us on a path to a sustainable energy system". 2 degrees C isn't definitively out of reach – yet – but the weak summit outcome means that much stronger efforts, costing considerably more, will be needed after 2020″, and "the speed of the energy transformation that would need to occur after 2020 is such as to raise serious misgivings about the practical achievability of cutting emissions sufficiently".
Limiting warming to 2 degrees is "all but impossible" under the New Policies Scenario, in which emissions rise to 34 gigatonnes in 2020 and 35 Gt in 2035, from 29 Gt in 2008 – an increase of 21% by 2020, all of which is accounted for by non-OECD countries. Instead, we put ourselves on track for stabilisation at over 650 ppm of CO2e, and a likely temperature rise of over 3.5 degrees C. So what would a scenario look like in which we don't screw ourselves? Answer after the jump.
November 15, 2010 at 8:37 am | More on Climate and resource scarcity |

Comments closed
When I was small, I was taken to London's Imperial War Museum (above) and I had a good time.  With the EU and NATO lowering their military ambitions, I'm starting to wonder if we shouldn't set up some sort of Post-Imperial War Museum to explain our recent military adventures to future generations, as I muse in Canada's The Mark:
Readers of serious European newspapers – admittedly a dwindling breed – should know where to find Kabul, Kandahar, and Kunduz on a map. NATO's fight against the Taliban has given us a passable knowledge of Afghanistan's major towns and cities.

But what about Bunia and Goz Beïda? Asked to identify these places, many Europeans might guess they could be found in the Star Wars universe. But they are real – located in the Democratic Republic of Congo (DRC) and eastern Chad, respectively – and they feature significantly in the recent military history of Europe.

In 2003, French troops were deployed to Bunia under the European Union's flag of Congo to fend off militias. In 2008, Irish troops were flying the EU flag in Goz Beïda, tasked with protecting supplies to refugees from Darfur. A Chadian rebel group attacked. The Irish escaped with no casualties, although some aid workers complained that the soldiers failed to fight back.

If anyone ever builds an EU War Museum to rival the Imperial War Museum in London, it will include displays on these engagements. But museum guides may have to explain that, after the Chad mission ended in 2009, EU soldiers never returned to Africa.
Read the rest of the article to find out why.  In the meantime, readers are invited to suggest items that should be on display in my EU War Museum.  I'd certainly want to include some of these Action Man-style uniforms, apparently worn by Belgian Special Forces (yes, they really do exist) that deployed to Chad…
November 12, 2010 at 10:20 pm | More on Africa, Conflict and security, Europe and Central Asia, UK |

Comments closed
The European Council on Foreign Relations has a new blog.  I'll be contributing to it occasionally while maintaining my undying loyalty to Global Dashboard too.  In the meantime, check out other ECFR authors on:
Add it to your blogroll right away!
November 12, 2010 at 9:37 pm | More on Europe and Central Asia, Influence and networks, UK |

Comments closed
Back in 2007, Martin Wolf wrote an opinion piece in the FT in which he noted that,
"…the biggest point about debates on climate change and energy supply is that they bring back the question of limits. This is why climate change and energy security are such geopolitically significant issues. For if there are limits to emissions, there may also be limits to growth. But if there are indeed limits to growth, the political underpinnings of our world fall apart. Intense distributional conflicts must then re-emerge – indeed, they are already emerging – within and among countries."
Wolf might equally have mentioned other resource scarcity factors such as competition for land, water scarcity and global food security, where similar worries and questions apply. But is he right that the issue of limits necessarily leads to a world of zero-sum games, resource nationalism and intensifying competition for dwindling resources? And if that outcome isn't set in stone, then what kinds of multilateral action are needed in order to prevent it?
These are the questions at the heart of a new Center on International Cooperation report of mine out today, entitled Globalization and Scarcity. It tries to avoid falling into the usual trap of playing 'fantasy multilateralism' – imagining what a perfect international organogram for managing these issues would look like, which countries would sit on which new decision-making bodies, whether a new World Environment Organisation is needed and so on - and instead takes a much more functional approach that starts by asking: what is it that we actually need the international system to do in order to manage an age of growing scarcity?
With this framing in mind, the report looks at four key areas for action: development and fragile states; finance and investment; international trade; and strategic resource competition between states. In each case, it sets out where global (as opposed to regional, national or local) action is needed, and then identifies a range of actions needed in order to manage scarcity, grouping them into those that could be undertaken in the next year or two; those that will require greater political heavy lifting, and consequently need more time; and various underlying questions and issues that will need to be resolved along the way.
The report also marks the first published output of CIC's program on Resource Scarcity, Climate Change and Multilateralism, which David and I are both heavily involved in – do visit the program's homepage on CIC's website, or this summary of what we'll be looking at and who's on the Steering Group.
November 11, 2010 at 8:14 pm | More on Climate and resource scarcity, Global system, Key Posts | 1 Comment
This from ICTSD in Geneva:
Days after calling for a dramatic reorientation of European farm subsidies towards environmental protection, the French ministry for ecology and sustainable development has taken the controversial proposal off its website, following a firestorm of protest from the country's farm lobby. Environmentalists and others, however, have praised the ideas in document. They want it to be reinstated online, and are seeking the launch of an inter-ministerial consultation process on the subject.

The 20-page proposal, entitled "Pour une politique agricole durable en 2013″ ("For a sustainable agriculture policy in 2013″) was published by the French Ministry for Ecology, Energy, Sustainable Development and the Sea in late October. However, the news portal Euractiv.fr reported that the text was no longer available online on 4 November, two days after a farm group voiced objections.

[snip]

The ministry proposes abolishing the existing two-pillar structure for farm payments, and replacing this with a series of separate policy instruments that would achieve these three goals. Income payments – determined by farm workers rather than by the number of hectares – would guarantee a minimal income. Environmental payments, linked to compliance with standards, would be covered by a second category of support. A third category, based on contracts, would help farmers move toward more ecological methods of production.
Baby steps, but surprising all the same.
On a related note – some are starting to wonder whether one silver lining of the mid-term results in the US could be that the Republicans might start to push back on US farm support, including on biofuels, as part of a broader reaction against federal subsidies. (Contrary to what you might have thought, the biggest demandeurs for farm subsidies on the Hill are often Democrats rather than Republicans. Of the five largest corn producing states, three – Iowa, Illinois and Minnesota – are generally seen as blue rather than red states.)
We can but hope – especially since the recent trend has been in the wrong direction. Btw, if you're following biofuels, this excellent Economist briefing from last week is worth reading.
November 11, 2010 at 10:04 am | More on Climate and resource scarcity |

Comments closed
Here's Lester Brown's take:
One of the questions I am often asked is, "How many people can the earth support?" I answer with another question: "At what level of food consumption?" Using round numbers, at the U.S. level of 800 kilograms of grain per person annually for food and feed, the 2-billion-ton annual world harvest of grain would support 2.5 billion people. At the Italian level of consumption of close to 400 kilograms, the current harvest would support 5 billion people. At the 200 kilograms of grain consumed by the average Indian, it would support 10 billion.

Of the roughly 800 kilograms of grain consumed per person each year in the United States, about 100 kilograms is eaten directly as bread, pasta, and breakfast cereals, while the bulk of the grain is consumed indirectly in the form of livestock and poultry products. By contrast, in India, where people consume just under 200 kilograms of grain per year, or roughly a pound per day, nearly all grain is eaten directly to satisfy basic food energy needs. Little is available for conversion into livestock products.

Among the United States, Italy, and India, life expectancy is highest in Italy even though U.S. medical expenditures per person are much higher. People who live very low or very high on the food chain do not live as long as those at an intermediate level. People consuming a Mediterranean-type diet that includes meat, cheese, and seafood, but all in moderation, are healthier and live longer. People living high on the food chain can improve their health by moving down the food chain. For those who live in low-income countries like India, where a starchy staple such as rice can supply 60 percent or more of total caloric intake, eating more protein-rich foods can improve health and raise life expectancy.
I can't vouch for the accuracy of Brown's figures – but he's totally right that the whole question of diet is fundamental to whether we manage to feed the world's rising population. I'm always struck by how the global food policy conversation often accepts demand projections – such as the World Bank's estimate that we'll need to produce 50% more food by 2030 – more or less uncritically.
In fact, as Brown's final paragraph above implies, meeting these business-as-usual projections also implies that we cheerfully accept continuation of current increases in overweight, obesity, diabetes, heart disease and so on – not just in OECD economies, but increasingly in the developing world too.
Unfortunately, as I noted back in September, no OECD governments are yet making any real headway in nudging their citizens towards diets that are healthier, more environmentally sustainable and more compatible with development and social justice. They need to find a way.
November 9, 2010 at 3:39 pm | More on Climate and resource scarcity, Economics and development | 10 Comments
Back in July, Chatham House and YouGov, the polling organisation, published some data on UK attitudes on foreign policy (pdf). There's lots of interesting stuff in there, including on attitudes to development, but for me the stand-out story is the extent to which opinion formers and the general public have strikingly different views of which global risks matter most for the UK.
As part of the survey, a group of opinion formers and a random sample of the general public were both read a list of "current or possible future threats to the British way of life", and asked to select three or four as the greatest threats.
For the opinion formers, the top two risks were "failure of major banks / failure of the international financial system" and "interruptions to our energy supplies, such as oil and gas". In each case, the percentage of the general public including these risks in their three or four responses was at least 15% lower than for policy elites. For climate change (fourth in opinion formers' list of worries), the gulf between elites and public is 19%.
The public, on the other hand, is much more worried about hard security threats. While opinion formers rate "international terrorism" third on their list of worries, the public put it top, with 6% more of them citing it. The gap is even more pronounced on "more countries, such as Iran and North Korea, developing nuclear weapons" – 52% of the public versus 39% of opinion formers – and "organized crime, including hard drugs, operating across borders" (42% of rhe public, 23% of opinion formers).
None of this is all that surprising – but it's kind of a big deal, given that publics actually wield considerable influence in determining how much political space policymakers have to play with when dealing with global risks, and the fact that so many key multilateral processes are currently stalled.
November 8, 2010 at 12:20 pm | More on Influence and networks, UK | 3 Comments
Here's the NYT's Dealbook column on 11 October:
If you care at all about the future of the world's food supply, you care — whether you know it or not — about Saskatchewan. A consortium of state-backed Chinese companies and financiers may make a takeover offer for Potash Corp. that rivals a $38.6 billion hostile bid from BHP Billiton, and that prospect has lawmakers in Washington, regulators in Canada and bankers on Wall Street all talking.

The politically charged subtext is this: Do we really want the Chinese to control the company that has the largest capacity to produce fertilizer? If that reminds you of 2005, when the China National Offshore Oil Company, or Cnooc, sought to buy Unocal, until an outcry from Congress stopped it, you would be right.
And the FT two days ago:
Canada has rejected BHP Billiton's $39bn bid for PotashCorp, dealing a potentially fatal blow to the Australian miner's 10-week pursuit of the Saskatchewan-based fertiliser producer.

Tony Clement, Canada's industry minister, said: "At this time, I am not satisfied that the proposed transaction is likely to be of net benefit to Canada [as required by Ottawa's foreign investment law]."

Mr Clement did not elaborate on the reasons for his decision, but said they would be given at the end of the 30 days. He added: "Canada has a long-standing reputation for welcoming foreign investment. The government of Canada remains committed to maintaining an open climate for investment."
November 6, 2010 at 11:42 am | More on Climate and resource scarcity, North America |

Comments closed
Wondering what the implications are of QE2 (as in Quantiative Easing mark II, not Her Majesty) in the US – whereby the Fed will buy up long-dated government bonds of maybe up to a trillion dollars or so?
Well, Marty Feldstein at Harvard University reckons that it's "a dangerous gamble with only a small potential upside benefit and substantial risks of creating asset bubbles that could destabilise the global economy". He notes that expectation of the policy has already lowered long-term interest rates, depressed the dollar and upped equity and commodity prices – and that these consequences create real risks:
Like all bubbles, these exaggerated increases can rapidly reverse when interest rates return to normal levels. The greatest danger will then be to leveraged investors, including individuals who bought these assets with borrowed money and banks that hold long-term securities. These risks should be clear after the recent crisis driven by the bursting of asset price bubbles. Although the specific asset prices that are now rising are different from last time, the possibility of damaging declines when bubbles burst is worryingly similar.
But John Michael Greer has a different concern about the US "printing money to pay its bills":
There may be an example somewhere in the long history of finance when a country has done this without facing catastrophic economic consequences in the fairly near term, but I don't happen to know of one. Once a country starts covering its debts by way of the printing press, the collapse of its currency and its economy is pretty much a foregone conclusion. The exact way in which the consequences come due varies from case to case; the hyperinflation made famous by Weimar Germany and, more recently, Zimbabwe is only one of the options, and there are good reasons to think that this isn't the most likely outcome just at the moment.

My own guess, for what it's worth, is that we're headed into a state of affairs that might as well be called hyperstagflation: the economy and money supply both contract, but the demand for dollars drops faster than the supply as holders of dollar-denominated assets scramble to cash in their dollars for anything that might preserve a fraction of their paper value. As in the stagflation of the Seventies, but much more drastically, prices go up while employment goes down until the economy shudders to a halt.
Q.v. the excellent When Money Dies: The Nightmare of the Weimar Hyper-Inflation
.
November 6, 2010 at 11:22 am | More on Economics and development, Global system, North America |

Comments closed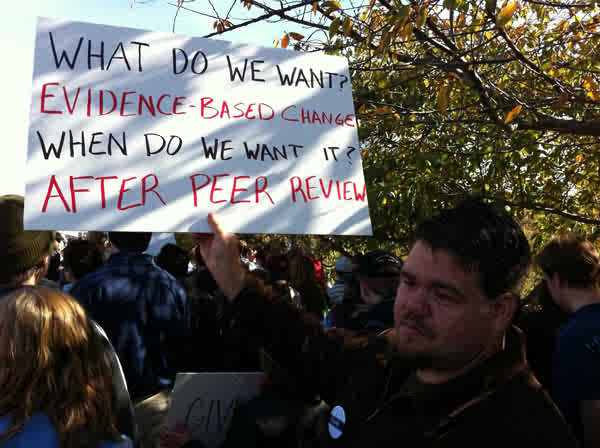 H/t Owen Barder. More placards here.
November 6, 2010 at 12:55 am | More on North America |

Comments closed