It's become an unlikely YouTube hit. No, not sneezing pandas or puppies on skateboards…but Pulitzer Prize-winning journalist Chris Hedges talking on C-Span for three hours about the triumph of the corporate state, the failure of liberals, the over-reaching of US empire, the cost of war, climate change, Christianity, the Occupy movement…everything really! Quite a performance. Posted online in January and it already has a quarter of a million views. Difficult to turn off once you start watching.
January 25, 2012 at 12:19 pm | More on Climate and resource scarcity, Conflict and security, Global system |

Comments closed
The Sun is up to all sorts of interesting things this week, with unusually high sunspot activity leading to a series of solar flares (or coronal mass ejections, CMEs, in the jargon). One was launched on Sunday night and arrived here only 34 hours later, a good deal faster than the usual average of 2-3 days. That led to some pretty stunning aurora borealis activity; the shot below was taken in Tromsø in Norway (h/t Bjørn Jørgensen, via the excellent SpaceWeather.com).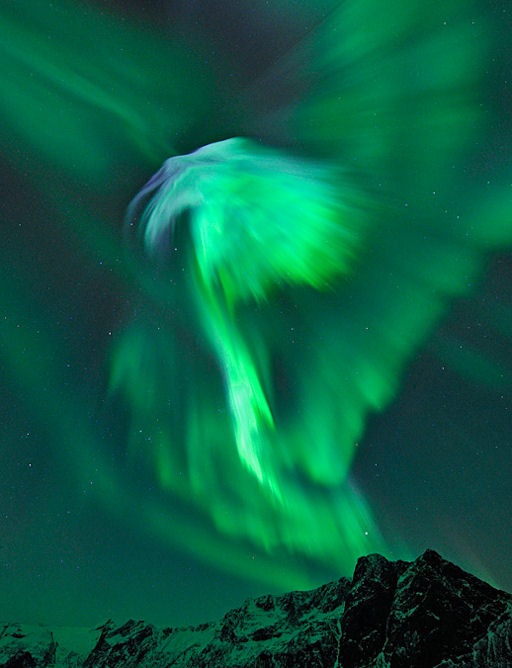 As it turns out, though, Sunday's solar flare was just a warm-up. Another even larger one – scoring 9 on a strength scale that runs to 10 – set off towards us at about 4am GMT yesterday, which means it will be arriving in about 4 hours' time (2pm GMT on 24 January).  The image below is from NASA's Solar Dynamics Observatory; see also this movie from SOHO, NASA's Solar and Heliospheric Observatory.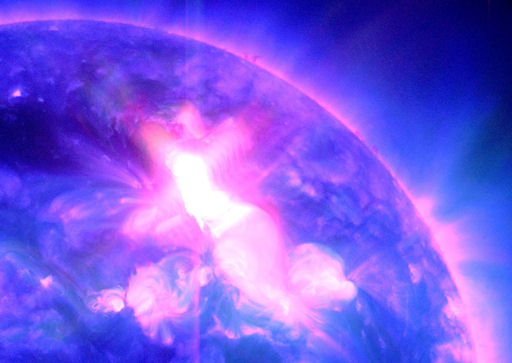 Does this mean we're in for a Carrington Event? Doesn't look like it - 95% of the CME is going to miss us, so we'll only catch the edge. Had it hit us square on, we'd be looking at very substantial disruption to internet, GPS and telecoms. But if you live in a northern latitude and you have a clear evening, then certainly worth keeping an eye on the sky – could be pretty spectacular.
January 24, 2012 at 10:53 am | More on Off topic |

Comments closed
Listening to the debates on the UK's Welfare Bill this morning, I was struck by the similarities between this debate and the endless arguments about whether the UK should give foreign aid.
Ever since the Elizabethans institutionalised the idea of the 'deserving' and the 'undeserving' poor into the system of poor relief, governments have had two main public reasons for giving people money (here or abroad): because they need it (see, for example, humanitarian aid or child benefit), or because it will do some wider good (like help them find a job, or promote economic growth), and two reasons for taking it away: becasue they don't really need it (the 'undeserving poor' that right-wing pundits are so keen to uncover), or because taking it away is in their own best interests (so they can, in the jargon, 'stand on their own two feet').  Welfare reforms, aid budgets, all are subject to this remorseless political logic.
There are two things which are particularly frustrating about this rather sterile argument.  Firstly, it's conducted entirely on the spending side, while in fact the fairness of a system depends both on how money is raised and how it is spent.  Debates on spending are often conducted as if choices were all about distribution within a group of very poor people.
Iain Duncan Smith, speaking for the government on the BBC's Today programme this morning, argued that the welfare bill will seem fairer to people in work who are earning low incomes and who don't want to see their taxes used to provide the unemployed with higher incomes than they themselves enjoy.  But if public spending really has come down to dividing up tax revenues from and benefit payments to people who are at or below the average wage, then the answer is not welfare reform to change the distribution of the spend, but tax reform to change the distribution of the revenue.
Of course poor working families should not be paying for poor non-working families, just as poor working families should not be paying for poor families in other countries.  The whole point of a redistributive tax system is that it's the wealthy who pay for the poor.  If this is really the issue, then change the tax system rather than tinkering with spending.
My second bugbear is the myth of the perfect system.  People arguing on both sides of the debate about the welfare bill and discussions about aid often appear to assume that there is some possiblity of a perfect system out there, which will solve the short-term problems of poverty without any risk of long-term distortions to people's behaviour.
Well there isn't.  Rather than looking for perfection, it might be better to think about both debates in terms of different types of mistakes various systems might make.  Is it better to err on the side of generosity, and perhaps risk giving aid or welfare to a few people who don't really need it, or is it better to err on the side of meanness, and risk cutting off aid or welfare to people who really do need it? Which kind of mistake can we live with?
Governments in this corner of the world have been struggling with this idea, at home and abroad, for over 400 years, since the first Poor Law was passed in England in 1601. There are real practical questions about how to manage both aid and welfare, how to make the most of scarce resources, and how to build handouts into a system of longer term improvements in people's lives.  But going down false, politically expedient avenues won't help anybody.
January 23, 2012 at 1:26 pm | More on Economics and development, UK |

Comments closed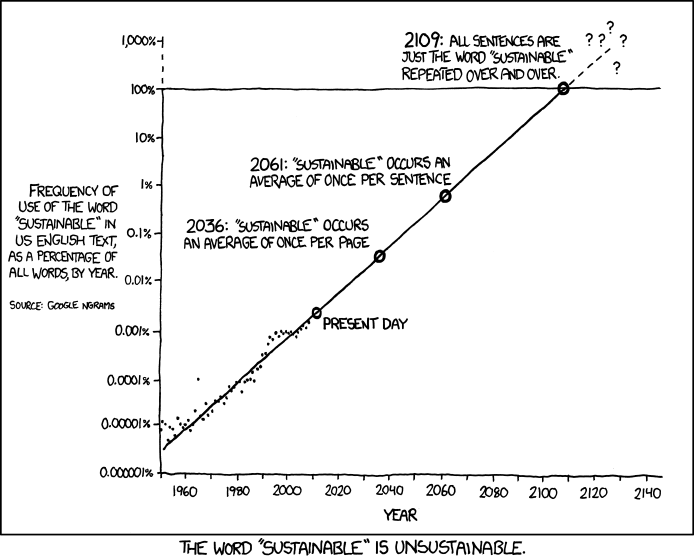 From XKCD, via Tim Harford.
January 23, 2012 at 9:38 am | More on Climate and resource scarcity, Off topic |

Comments closed
Later today in New York, a 2 day meeting on the idea of 'Sustainable Development Goals' will begin, bringing together numerous countries' Permanent Representatives to the United Nations plus a whole host of environment and development experts from capitals. It's going to be an interesting meeting.
The idea of 'SDGs', after all, has acquired a lot of political momentum in recent months. Partly that's because they're seen as a potential outcome from this summer's Rio+20 sustainable development conference – at a point when very few concrete outcomes from Rio appear to be in prospect (see the 'zero draft outcome document' pdf that was published earlier this month). The SDGs agenda is also topical given that the Millennium Development Goals are due to hit their 2015 deadline pretty soon, raising the question of what should come after them. (See Claire's excellent recent publications, like this and this, on that for a full briefing on where things stand on that front.)
But the funny thing is that there's remarkably little clarity on what SDGs would cover, or how they'd work. Would they just run from now to 2015, alongside the existing MDGs, and cover a few 'gaps' that were missed out in the MDGs – like access to energy? Or would they in fact take over from the MDGs after 2015, thus becoming the new organising framework for global development policy? These are big questions – and at a time, of course, when multilateralism has really been struggling to make much running not just on Rio preparations, but also on climate, trade, and any number of other key issue areas.
Against this backdrop, David and I have just published a short CIC briefing paper (pdf) that discusses where we are on the SDGs agenda – and how it might usefully pan out from here. In a nutshell, our argument is that policymakers should think twice before regarding SDGs as an "easy win" from Rio. We argue that this is a very complex and potentially very contentious area of policy – and that policymakers should play a long game at this stage rather than going for quick wins that could all too easily backfire. Accordingly, we think that discussion of SDGs at Rio should go no further than discussion of broad principles and raising the level of ambition. A lot more shared awareness – not just between policymakers, but also with publics, private sector, media, civil society and so on – is needed before the discussion about specifics gets underway in earnest.
January 23, 2012 at 9:08 am | More on Climate and resource scarcity, Economics and development, Global system | 1 Comment
European ministers are meeting today to discuss an oil embargo on Iran.  The run-up to the meeting has been dogged by reports that some impoverished EU members – notably Italy and Greece – have questioned the initiative.  The Iranians may think that the EU won't do them real damage, as I point out in a new column for E!Sharp:
There is a general impression that the EU would not hurt a fly.  Instead, it might launch a strategic partnership with the fly, hold annual meetings with the little creature, and possibly fund a Brussels-based think-tank to produce a report entitled "Achieving a Sustainable EU-Fly Relationship by 2025".

That is the image that many EU officials want to project.  "The strength of the EU lies, paradoxically, in its inability to throw its weight around," Catherine Ashton declared in February last year. "In short, the EU has soft power with a hard edge – more than the power to set a good example and promote our values. But less than the power to impose its will."  Yet the EU was throwing its weight around just then.

The EU's top target one year ago was Laurent Gbagbo, who was refusing to accept the UN's decision that he had lost elections in Côte d'Ivoire in November 2010.  A brutal but wily operator, Gbagbo had unleashed thugs on his opponents, menaced UN peacekeepers and bamboozled African mediators.

But the UN had mandated sanctions against his regime and the EU took the lead in implementing them.  In a very un-European moment of nastiness, Ashton's spokesperson told a reporter that the "priority is on the economic asphyxia of Gbagbo's regime."  When I read that menacing line, I wanted to cheer.
Things turned out pretty badly for Mr Gbagbo, who was undercut by the EU sanctions and is now at the ICC.  The Syrian regime is also struggling with Euro-sanctions:
The EU first imposed sanctions on individual Syrian officials as violence in the country escalated in May last year, but raised the stakes by deciding to stop importing Syrian oil in the autumn.  Although the Syrian regime has held on to power – and continued its vicious campaign against protestors – the EU's sanctions have had an impact.  Companies like Shell have pulled out.  With its energy sector under siege, Damascus has struggled to supply its own population with fuel.  The Financial Times reports that the price of subsidized cooking gas for normal Syrians had now tripled.

Syria's President Assad has accused the Europeans of persecuting innocent civilians.  Nobody should be proud that poor Syrians have been affected by the price hikes – even leaving ethical issues aside, it is arguable that some citizens feel greater solidarity with the regime in the face of EU pressure.   But Côte d'Ivoire and Syria both show that, at least when it comes to sanctions, the EU has more than "soft power with a hard edge".  It has straightforward hard power – even if it is economic not military.
Iran is, of course, a rather tougher target.  But the EU may do it real damage.
January 23, 2012 at 5:09 am | More on Conflict and security, Economics and development, Europe and Central Asia, Middle East and North Africa | 1 Comment
Indonesia, sometimes known as the "fifth BRIC" (after Brazil Russia India China) because of its population size and growth potential, now has debt rated at investment grade for the first time since the Asian financial crisis:
While a credit-rating cut hangs over some nations, the Southeast Asian giant's sovereign debt has been bumped back up to investment grade by Fitch Ratings, in December, and Moody's Investors Service this week. Standard & Poor's will surely follow suit.

Investors have already rewarded the country for solid fundamentals—foreign direct investment grew 20.2% last year to a record $19.3 billion, the government said Thursday, and, earlier this month, Indonesia sold 30-year bonds at a record-low yield of 5.375%. Meanwhile, gross domestic product growth is trotting along at a healthy 6%-plus, public debt is under control, and inflation is relatively benign at under 6%. Still, there are reasons to be cautious.

Corruption and weak infrastructure are perennial problems. Crumbling roads and inadequate ports especially stifle trade, costing as much as 1% of GDP, according to analysts. A recently enacted land acquisition bill should help. But there is much work to be done.
While India and China gain many more headlines, Indonesia may be both a more attractive bet for investors and a better case study for development professionals trying to find lessons applicable to less developed countries.
January 20, 2012 at 1:25 pm | More on East Asia and Pacific, Economics and development |

Comments closed
Have you lost all hope given the onslaught of bad news these past few years? Well, now you have a backup plan.
A new index published in the journal Astrobiology scores planetary bodies on their suitability for life. As the Economist explains,
Tipping its hat to the possibility that aliens could have dramatically different biochemistry from earthlings, the index confines itself to measuring big-picture factors such as the presence of a solid surface, the average surface temperature, the strength of a planet's magnetosphere (which helps shield it from cosmic radiation) and the like.
Unsurprisingly, Earth comes top of the list. Interestingly, though, Titan, a Saturnian moon covered in hydrocarbon lakes, takes the second spot in our solar system, ahead of Mars. And with a decent score too. Time to start packing?
January 19, 2012 at 2:18 pm | More on Global system, Off topic |

Comments closed
As the Occupy movement gets ready to hit the slopes of Davos, a new Oxfam report reveals that inequality is growing in almost all G20 countries.
Russia, China, Japan and South Africa have seen the largest gaps between rich and poor emerge over the last 20 years, with only South Korea succeeding in reducing inequality amongst high-income countries. The figures suggest that by reducing inequality in Brazil and Mexico to levels seen in Indonesia (close to the G20 median), the number of people in poverty would fall by 90 per cent over the next decade.
The World Economic Forum last week listed stark inequality as top global risk.
The data also reveals that unlike the G20, in most low-income countries, inequality is falling, and levels of inequality are converging towards those of the G20. Perhaps time to revisit that idea of Millennium Consumption Goals? Or set up The Spirit Level reading groups in the Swiss mountains?
January 19, 2012 at 11:54 am | More on Global system |

Comments closed
The situation in South Sudan is very bad and getting worse, as the New York Times underlined in a lengthy and blunt analysis last week:
South Sudan, born six months ago in great jubilation, is plunging into a vortex of violence. Bitter ethnic tensions that had largely been shelved for the sake of achieving independence have ruptured into a cycle of massacre and revenge that neither the American-backed government nor the United Nations has been able to stop.

The United States and other Western countries have invested billions of dollars in South Sudan, hoping it will overcome its deeply etched history of poverty, violence and ethnic fault lines to emerge as a stable, Western-friendly nation in a volatile region. Instead, heavily armed militias the size of small armies are now marching on villages and towns with impunity, sometimes with blatantly genocidal intent.
But aren't there UN peacekeepers in South Sudan?  There are, but with fewer than 5,000 troops in the country, the UN is struggling to cope.  This was emphasized by an attack by Nuer fighters on members of another tribe, the Murle, in the town of Pibor, which the UN made an effort to deter.  But the peacekeepers were outgunned:
As thousands of Nuer fighters poured into Pibor on Dec. 31, United Nations military observers watched them burn down Murle huts and then march off, in single file lines, into the bush, where many Murle civilians were hiding. Murle leaders have complained that they were abandoned in their hour of need. Neither government forces nor the United Nations peacekeepers left their posts in Pibor to protect the civilians who had fled, and it appears that many Murle were hunted down.

Hilde F. Johnson, head of the United Nations mission in South Sudan, said the peacekeepers had warned residents that the fighters were coming. But she argued that the United Nations troops had little choice but to stay on the sidelines. "Protection of civilians in the rural areas and at larger scale would only have been possible with significantly more military capacity," she said.
Why are UN forces so thin on the ground?  Independent analysts repeatedly warned that South Sudan could slump into violence after independence in 2010 and 2011.  Although I claim no special knowledge of the country, it's a theme that I've occasionally tried to highlight too.  In a December 2010 article on Sudan and the UN, I argued that Ban Ki-moon's top priority should be to "offer the Security Council a compelling version of what the UN can achieve in the South."  Last summer, I repeated rumors circulating in New York of UN turf wars over South Sudan:
More than 40 officials representing various agencies piled into an initial assessment mission. The U.N.'s "integrated" planning process, which has proved cumbersome in the past, was just as unwieldy in this case, and tempers frayed badly in New York.
After I wrote that, quite a few people inside the UN were in touch to say that I was off the mark.  While the UN planning process was a bit of a mess, the real problem was that the planners did not believe that the Security Council would accept a large military mission in South Sudan comparable to those in Liberia or the Congo.  European members of the Council in particular seemed to be fixated with keeping the costs of the mission down, part of larger austerity drive.  UN officials put together ideas for protecting civilians with a relatively small force, but Hilde Johnson's statement to the NYT suggests that the level of anarchy in South Sudan has now passed the point that it can be handled through "peacekeeping lite".  To make matters worse, troop contributors to the mission are getting (justifiably) nervous.  Russia, which provides military helicopters to the mission, seems to have had enough already:
Russia is likely to withdraw its military helicopters servicing the U.N. peacekeeping force in South Sudan after voicing alarm at attacks on Russian personnel there, a Russian official said on Tuesday.  Although Moscow has not made a final decision on its possible withdrawal , Deputy Foreign Minister Gennady Gatilov said the security situation for the 120 Russians aiding the U.N. peacekeepers "recently has not been satisfactory for us."  "There is a likelihood that our unit will be withdrawn," Russia's RIA Novosti news agency quoted Gatilov as saying. He said Moscow had repeatedly asked the U.N. Secretariat and the South Sudan authorities to take measures to ensure the Russians' security.
An anonymous UN official is reported as saying that Russia's decision is "outrageous".  But if the situation is as bad as it seems, then UN officials – up to and including the Secretary-General – are going to need to go further than that.  Last year, Ban Ki-moon took a stand over the crisis in Côte d'Ivoire and, as I point out in the current edition of Global Governance, demonstrated an unexpected degree of moral purpose and leadership.  He needs to repeat that feat over South Sudan.
Ban has already expressed concerns about the situation.  But he needs to make a huge push on this issue now: if he does not, he may find that the UN stands accused of overseeing massacres and crimes against humanity reminiscient of the 1990s.  That would not only sully his second term in office, but the institution's standing as whole.
January 17, 2012 at 11:26 pm | More on Africa, Conflict and security |

Comments closed
It's so hard to know which global threat to worry about most these days. Global warming? Weaponized bird flu? WMD? Well, now you can add the Death Star to your list. Viewers of Star Wars will of course recall the planet-sized spaceship that could blow up planets, but they may have dismissed it as entertainment.  The fools…
Such an act of destruction would seem impossible to us–it seemed so to many of the movie's characters until it happened. But perhaps not, say three students at the University of Leicester in England who last year published a study on the subject in their university's undergraduate physics and astronomy journal.

The study's authors start off by making some simple assumptions: The planet being fired upon doesn't have some sort of protection, like a shield generator. And it's about the size of Earth but solid through and through (Earth isn't solid, but the planet's layers would have significantly complicated the math here). They then calculate the planet's gravitational binding energy, which is the amount of energy required to pull apart an object. Using the mass and radius of the planet, they calculate that destruction of the object would require 2.25 x 1032 joules. (One joule is equal to the amount of energy required to lift an apple one meter. 1032 joules is a lot of apples.)

The energy output of the Death Star isn't given directly in the movie, but the space station was said to have had a "hypermatter" reactor that had the energy output of several main-sequence stars. For an example of a main-sequence star, the authors look to the Sun, which puts out 3 x 1026 joules per second, and they conclude that the Death Star could "easily afford to output [the energy required for an Earth-like planet's destruction] due to to its tremendous power source."
Fantastic.  The only good news is that the Death Star probably couldn't take out Jupiter without self-destructing.  Perhaps the need to get to larger planet explains China's recent burst of enthusiasm for manned space flight?
[H/t: Vanessa Parra.]
January 17, 2012 at 6:27 pm | More on Conflict and security, Global system, Off topic | 1 Comment
OK, OK, that's not quite what Chatham House are saying in their new report Treasure Mapped: Using Satellite Imagery to Track the Developmental Effects of Somali Piracy. But check out some of what the report does say:
The data analysis indicates pirate incomes have widespread and significant positive impacts on the Somali economy. Although only a fraction of ransoms is exchanged into Somali shillings, the appreciation of the Somali shilling resulting from the injection of US dollars benefits people relying on imported food staples such as rice. There are clear trickle-down effects for casual labourers and pastoralists because of higher cattle prices.
Or this:
Piracy has created employment and considerable multiplier effects in the Puntland economy, even if a significant proportion of the proceeds is invested in foreign goods or channelled to foreign financiers. The distribution of ransoms follows traditional patterns in Somalia, involving considerable redistribution and investment in urban centres rather than coastal villages.
But here's the real punchline:
The total cost of piracy off the Horn of Africa (including the counter-piracy measures) was estimated to be in the region of US$7–12 billion for 2010, while ransoms were said to be in the region of US$250 million. Even if Somali communities received all of the ransom money, replacing this source of income (for example with a combination of a foreign-funded security forces and development aid) would be considerably cheaper than continuing with the status quo.

A negotiated solution to the piracy problem should aim to exploit local disappointment among coastal communities regarding the economic benefits from piracy and offer them an alternative that brings them far greater benefits than hosting pirates does. A military crack-down on the other hand would deprive one of the world's poorest nations of an important source of income and aggravate poverty.
January 17, 2012 at 10:53 am | More on Africa, Conflict and security, Economics and development | 1 Comment
Equal parts diplomat and advocate, civil servant and CEO, the Secretary-General is a symbol of United Nations ideals and a spokesman for the interests of the world's peoples, in particular the poor and vulnerable among them. The current Secretary-General, and the seventh occupant of the post, is Mr. Kofi A. Annan of Ghana, who took office on 1 January 1997.
That's an excerpt from, er, the UN's website.
January 16, 2012 at 1:13 pm | More on Global system |

Comments closed